on 19/3/2018, 8:12 pm
Message reputation : 100% (3 votes)

March 17, 2018 EPISODE 1 PREMIERE

November 2017 - I travelled to back Kabukicho, Tokyo to film a follow-up documentary series to last years Yakuza Locations Tour 2016. Yakuza Locations Tour 2016 received critical acclaim from gamers, the fans and Sega. Yakuza Locations Tour 2017 is a documentary series comparing between real-life Kabukicho Tokyo to the fictionalized Kamurocho Tokyo featured in the main Yakuza series by Sega.

To celebrate my sixth year anniversary on YouTube, this is my tribute to the Yakuza (龍が如く) franchise and the amazingly talented team at Sega.

Thank you everyone for watching my videos on YouTube. Your continuous support for the past six years has given me the motivation to keep making better videos on YouTube.

This video was a labor of love, made by a fan for the fans.

Tune in every Saturday for new episodes!
-----------------------
If you'd like to watch the entire Yakuza Locations Tour 2016 (comparing Yakuza 6 The Song of Life) series click here:


Episode 2 New Serena/Serena:

Episode 3 Akiyama's Sky Finance:

Episode 4 Kazama Family Office:

Episode 5 Yakuza 6's Kamurocho Restaurants:

Episode 6 Yakuza 6's Apple Pie:

Episode 7 Stardust:

Episode 8 Poppo Mart/RIZAP:

Episode 9 Karaokekan Karaoke:

Episode 10 Don Quijote:

Episode 11 Millennium Tower/Hotel Gracery:

Episode 12 Yakuza 6's Millennium Tower Side Entrance:

Episode 13 Theater Square:

Episode 14 Club SEGA:

Episode 15 Bacchus/Bantam:

Episode 16 Shinjuku Batting Center:

Episode 17 Matsuya:

Episode 18 CP Shrine:

Episode 19 APA Hotel:

Episode 20 Hostess Clubs/Pink Street:

Episode 21 Nadai Fujisoba:

Episode 22 Kamuro Castle:

Episode 23 Yakuza 5's Bee Dining Darts Bar:

Episode 24 Coin Locker Keys:

Episode 25 Gindaco Takoyaki:

Episode 26 Shoten Shogi:

Episode 27 Purgatory:

Episode 28 PRONTO Shibuya:

Episode 29 Gary's Bootcamp:

Episode 30 Telephone Booth:

Episode 31 Kanrai Korean BBQ:

Episode 32 Host Clubs/Shichifu.ku Parking Lot:

Episode 33 Ebisu Pawn Shop:

Episode 34 PIZZA LA EXPRESS:

Episode 35 Tokyo Vending Machines:

Episode 36 Pink Street Alley:

Episode 37 Gelateria/Highball Sakaba:

Episode 38 Daikoku Drugstore:

Episode 39 Hotel District:

Episode 40 Divine Dragon Tattoo Parlor:

Episode 41 Yakuza Dead Souls' Universal City :

Episode 42 BAGUS Billiards, Darts, Golf, Table Tennis:

FINALE:


If you'd like to watch the original Yakuza Locations Tour series (comparing Yakuza 5) that started it all check it out here :




on 20/3/2018, 1:24 am
Message reputation : 100% (1 vote)
Appreciate it, Zeraslight! Thanks for watching! The Finale of the 2017 Locations Tour will be at least 20+ minutes long (it's jam packed with 'SEGA' stuff). Stay tuned!
on 24/3/2018, 11:38 pm
Message reputation : 100% (1 vote)


Yakuza Locations Tour 2017 EPISODE 2 is LIVE

In this episode, I visited Nadai Fujisoba「名代 富士そば」: a popular Japanese restaurant chain serving an assortment of signature Japanese buckwheat noodles.In November 2017, SEGA announced a special collaboration and tie-in with Nadai Fujisoba. Customers can order a bowl of 'Red' Fujisoba「赤富士そば」for just ¥500. Available for a limited-time only!

This year, they've added more spice and chilli peppers to the recipe representing both Ryuji Goda (The Dragon of Kansai) and Kazuma Kiryu (The Dragon of Dojima) respectively. FEEL THE HEAT!

Players can visit Nadai Fujisoba in Yakuza Kiwami 2 and order all the signature dishes in the game to gain Agility, Strength, Technique and other attributes powering up Kiryu.
on 25/3/2018, 9:17 pm
Message reputation : 100% (1 vote)
Oh a locations tour in 2017 ?! I missed that !
Your videos are really cool, keep going !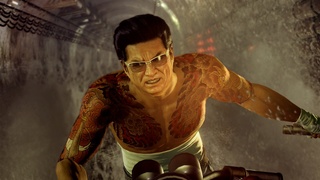 "In the Yakuza life, they are no KO's"
on 25/3/2018, 9:55 pm
Message reputation : 100% (1 vote)
@GorudenRyu

wrote:Oh a locations tour in 2017 ?! I missed that !  

Your videos are really cool, keep going !
Much appreciated, GorudenRyu!
Some people have asked me, "where do you get the background music?" it's all direct capture recordings from restaurants/bars/establishments in the games (typically from Yakuza 5, Zero and Kiwami1/2). I stand idly by and just record the audio nonstop.
on 1/4/2018, 12:50 am
Message reputation : 100% (2 votes)

Yakuza Locations Tour 2017 EPISODE 3 is LIVE


In this episode, I visited the Manboo Netroom (マンボーネットルーム) in Kabukicho, Tokyo. Manboo is a 24hr internet cafe containing a four-square meter box with a TV screen and computer. Tourists spend an hour or two just for the experience, but there are thousands who spend their lives in them.

A Manboo equivalent exists in Yakuza 6 - mantai Internet cafe.
One of the new Play Spots in Yakuza 6 is the Mantai LiveChat. Having little to no technical prowess, Kazuma Kiryu will enter an online chat room with the other online users who login for a good time. An AV Idol will appear on screen reading instant messages of her viewers. When Kiryu types a playful message in sequence, the more 'comfortable' she'll be!
on 5/4/2018, 6:55 pm
Message reputation : 100% (2 votes)
on 7/4/2018, 1:58 am
Message reputation : 100% (1 vote)

Permissions in this forum:
You
cannot
reply to topics in this forum