I'm always playing League of Legends in the background of everything, but besides that I've been focusing on Dragonball FighterZ alot.
Yooka-Laylee.

The camera is annoying, fun platformer... at times.
I recently finished The Legendary Starfy on the DS, Fun little platformer. I'm currently working on Resident Evil 6 and Dragonball FighterZ story mode.
RPG Maker 2003, Monster Hunter World, Dead or Alive 5 Last Round practicing Ayane and Kokoro, Yakuza Kiwami 2, Yakuza Zero Legend mode and some more if I would have more time :D
Far Cry 5. I didn't expect to enjoy this as much as I currently am in co-op tbh.
Ni no Kuni 2, Far Cry 4 (it's a good game, I understand hype around the 5th) and Final Fantasy (Psp version). Of course, HgG !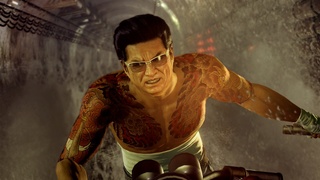 "In the Yakuza life, they are no KO's"
Far Cry 5. Didn't expect it to be this good after the disappointment that was Primal.
Finished RGG Kiwami 2, I personally enjoyed it as much as I enjoyed Y2 (minus the first time reactions to everything). Even with all the content that was cut, I felt like the stuff that was added + Majima's Campaign made up for it. Not to mention it's not like the original doesn't still exist, so if I miss the cut content that I can play it there.

Started playing UPPERS. It's weird, fun, and very Japanese. I don't know what the point of anything is but I am enjoying it thus far.

I bought Divekick on Steam, and Steamworld Dig on the JP Vita store and have played both of them minimally in comparison to the previous mentioned games.

Divekick is very fun, as always.
Steamworld Dig actually defaulted with English everything, which surprised me since I bought the Japanese version, and didn't even know it had a language select in the options. Would have assumed it would default to JP text and all, but I am not complaining.

Been playing PSO2 as always. I had a problem for the last month where the PSO2 Tweaker would not launch the game for some reason. I got it fixed today but then about 20 minutes later they decided to have Maintenance from 10am to 1am PDT, so... that sucks. Got it working now though, so I can play the game in English again. It's weird because I have gotten so used to Japanese text because of playing without EN Patch, and playing on PS Vita and PS4 as well.


      批判的     
    critical    
on 5/4/2018, 6:10 pm
Message reputation : 100% (1 vote)
Decided to go back and finish up Dying Light and get that platinum (yay finally, about 60 hours after several bullshit). Now finishing up Bozak Horde for that 100%, boy is that going to be fun.

Never playing a zombie game again... except Dead Souls.

Probably afterwards, play some Assassin's Creed IV and Unity.
Far Cry 5! Near the end of the story... i think. Then side missions I missed.

Permissions in this forum:
You
cannot
reply to topics in this forum