What is your favorite character in the series?
Say down below and in a bit I'll take all of the answers and make a poll! Then we can see who's everybody's favorite character is!

Personally I like Kiryu a lot! My two favorites are Kiryu and Akiyama, though if I had to choose it'd be Kiryu!
do a kickflip maybe
My Favourite character is Kazuma Kiryu. Kiryus Ambitions and evolution over the years make him very likeable for me. He isn't this standard Action Guy who just kills somebody for no real reason. Everything he does is for a reason and thought through. I also like his Character in general and his decisions he makes over time.
My personal Top 3 would be as followed:
1. Kazuma Kiryu
2. Goro Majima
3. Haruka Sawamura
Shun Akiyama, Makoto Date and Kouichi Takasugi are also great ones.
not a big haruka fan personally tbh
do a kickflip maybe
I know Haruka is kinda hard to like at times because of how many mistakes she makes but she is very important to Kiryu for reasons. What she went through isn't something any child would be able to survive. She deserves a normal life like Makoto Makimura after all this trouble.
Yeah I am not doubting her importance to the story, or saying she might as well not be there. She is a very important character and plot device, especially in Yakuza 6. It's one of those things where I understand why she is liked, and think she should be liked, I just don't like her.
do a kickflip maybe
on 31/5/2018, 7:00 am
Message reputation : 100% (1 vote)
1 - Ryuiji Goda
2 - Kiryu Kazuma
3 - Shun Akiyama/Goro Majima

I like Haruka too but its charisma is at its the peak during the first Yaluza. After that's decreased.

Kuze, Komaki, Saigo, Date, Arai, Kage... are memorable characters too.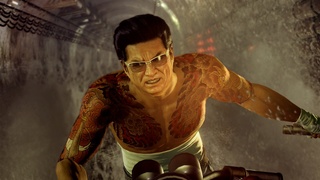 "In the Yakuza life, they are no KO's"
1. Goro Majima
2. Kiryu Kazuma
3. Ryuji Goda

Honorable Mentions: Daigo Dojima, Haruka Sawamura, Shun Akiyama, Masayoshi Tanimura, Taiga Saejima, Akira Nishikiyama, Makoto Date, Kaoru Sayama, Tetsu Tachibana

Permissions in this forum:
You
cannot
reply to topics in this forum