After playing through all Yakuza main games except 6 I thought let's give Dead Souls a try. In the end the game wasn't bad but I experienced a great issue I want to share my opinion on.
We are talking about a game were you shoot other zombies and mutants with weapons but that's were the problems lies. The game has huge Framedrops down to 10 or lower if to much is happening on the screen. One spoiler to a boss close to the end:
Spoiler:

Hayashis fight had fire, sprinklers and particles from his attacks at the same time. It was a 10 FPS or lower all the time through this otherwise awesome and well thought out fight.
It doesn't help that the general key assignment is placed weird on the Controller. Very out of the line compared to other Shooter Genre Games. I think Dead Souls could be a much better game if it would get re released on PS4 with fixed 60 FPS.
60 FPS is something every First/Third person Shooter needs in my opinion to be good. Otherwise you can't react quickly enough. It's not the biggest problem in a singleplayer only Zombie Shooter but it's something that made Dead Souls stand behind it's potential.  
What's your opinion on this? Did you play Dead Souls and also had the problem I had with the Framedrops or is it no big Deal for you?
I agree. I mostly game on the PC so it's just very noticeable to me. I finished Dead Souls way back now on my shared family account, I haven't even bothered to go back and play the game on my main PSN account.

The framerate on Yakuza 6 isn't so good either, not as bad as Dead Souls, but it did annoy me at times. Kiwami 2 improved a lot in terms of performance when compared to Yakuza 6.
sid

Administrator

---

Posts : 280
Join date : 2018-02-04
Location : Riverside, CA


Customize Profile

: Futoshi Shimano

Bad framerates...
do a kickflip maybe
GorudenRyu

Member

---

Posts : 158
Join date : 2018-02-27
Location : Paris, France


Customize Profile

: Ryuji Goda

I agree. Apart from the problem of FPS, it is a very average TPS but with a very generous fan service (maybe too much)
But this is the only episode where we can control Ryuji (and Majima before Zero): so Dead Souls... is a masterpiece !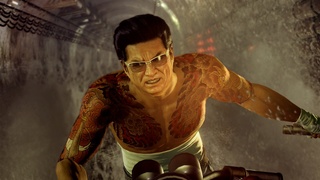 "In the Yakuza life, they are no KO's"
It's not that Dead Souls did everything wrong but bad FPS can destroy a whole game

Permissions in this forum:
You
cannot
reply to topics in this forum